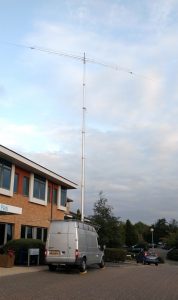 Myself G0RVM and Peter 2E0UAR attended the RSGB Convention in Milton Keynes this year.  We left Bristol around 15:30hrs but got stuck in jam after jam.  Towards the end of the journey 'here comes another set of blue lights' was becoming a bit of a joke!  Fortunately we did arrive before the buffet dinner finished.  It was a close thing tho as there where only a few slices of pudding pie left 😉
This was my first Convention and I must congratulate the RSGB for such a great event.  The accommodation was good, the food and conference facilities excellent.  It was educational to hear talks on a variety of subjects from speakers deeply knowledgeable in their subject.  Access was free to those under 21yrs too – a great way of incentivising attendance by younger radio amateurs.  Thank you RSGB.
In addition to the rooms hosting five parallel lecture streams there was a room with stands by Icom, Kenwood, the RSGB and of course, Martin Lynch who were the prime sponsor.    Outside this room was a rather large trailer tower with HF antennas providing live signals for the exhibitors.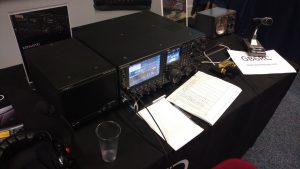 Proudly parked outside the front of the conference centre was Flossie, the mobile radio van of Camb-hams.  Protruding through its roof was a Clark pneumatic mast with rotary HF dipole.  The van looked excellent and a great way to get a portable setup to a distant location, setup and on-air with minimum fuss.  As I have a pneumatic mast also it was good to swap experiences, finding we shared some of the challenges associated to these masts.
Some of my favourite talks over the weekend were:
The new world of amateur satellites, Graham Shirville, G3VZV
The Story of SDR and FlexRadio, Gerald Youngblood, K5SDR
The VP8SGI & VP8STI DXpeditions, Mike McGirr K9AJ
Space Weather, Prof. Cathryn Mitchell, M0IBG.
I was really looking forward to "Best practice for VHF UHF DX" by Ian White GM3SEK but unfortunately Ian had to cancel.  Maybe next year.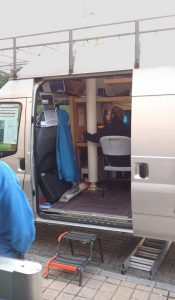 From the first talk identified above I learnt that we as radio amateurs are soon to have a 'bend-pipe' transponder in geostationary Earth orbit.  Wow that is an amazing feat and I can't wait till its operational.  Amazing.  The talk by Prof. Cathryn Mitchell was excellent being delivered superbly and hugely informative.  It was interesting to hear how in 2015 space weather was identified in the UK National Risk Register with an impact of the same scoring as emerging infectious diseases, inland flooding, effusive volcanic eruptions, major industrial accidents etc.  In fact, in 2015 the likelihood of a major space weather event occurring in the next five years was in the second from highest category.
I can thoroughly recommend attending the Convention and I know I will be booking my 2017 ticket as soon as they become available next year.
Andrew
G0RVM