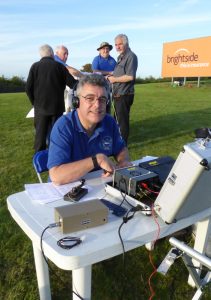 The Severn bridge was 50 years old this month.  To commemorate its birthday the Thornbury and South Gloucestershire Amateur Radio Club (TSGARC) ran a special event station with the callsign GB4SBB throughout Thursday 8th September.
The morning arrived, the weather gods smiled upon us, a very nice morning, a little too much wind perhaps.  The first arrivals were on site and unloading by 09:00hrs, put up the tents and started to erect three HF antennas, this took time, a lot of time during which Mike Davis G0JMD arrived popped up his posh toilet tent, a pole complete with a white stick and was operating on air within fifteen minutes. ( Lesson. Keep it simple, practice erecting poles and antennas and to have a plan and to stick to it ).  It became clear that a Special Event Station is not the place for experimenting…..
The day, however, turned out to be a success with 50+ contacts were made and we had visits from passing amateurs, also a member from the Chepstow ARC drove across the Bridge specially.
It was great to see so many of our club members, some stayed a hour or so, the rest were there for the all important break down.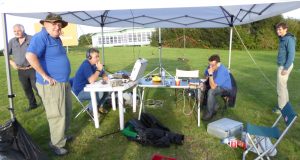 Special thanks must go to Ron M6EAT for supplying the Generator, Stan G0RYM for the big dome tent, we would have made more use of it had it rained.  And to all the Club members who made it a day to remember.
Click on the images for a larger version 🙂
Richard 2E0RES, Rex G4RAE.