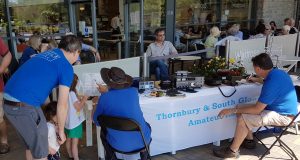 Very quick post regarding last weekends Waitrose On-Air Roadshow event. First wanting to thank Waitrose and specifically Shirley (my contact) for organising with us. I am sure that all those who took part and visited us at the store on Saturday last would agree it a success.
Rather surprisingly we actually made some reasonable contacts on 2m repeaters but more importantly were able to meet the general public and of course star of the show just go to Rex for the morse tutorial with the children (seen here).
We shall certainly be putting this in the calendar for next year and hopefully repeating the process. Thoughts are now to our next roadshow location.
Thanks to John M0HFH and Rex G4REA for their help.
Mark 2E0RKM