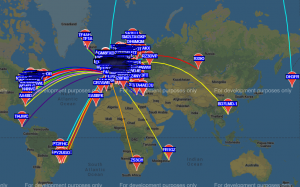 Thinking about a suitable antenna for use with a kite i decided to purchase UK antennas multi band end fed.
end-fed-antenna-with-mounting-bracket-80-40-20-17-15-12-10m
It seemed sensible to test the antenna matching before attaching it to a kite however the half wave for 80m was too long to put up at my QTH so i swapped it out for a half wave on 40m and attached it to the matching unit; using a mini VNA and MFJ 259B  i set about matching the radiator. The starting point indicated resonance at 6.6mhz so trimming the length i slowly brought it to resonance at 7.04mhz with vswr of 1: 1.2. To achieve this i had to attach a counterpoise of 3m, my only criticism being there was no attachment point for a counterpoise.
The screen shot shows the WSPR test at 200mw from my QTH on the 09/08/2020.
A  CW QSO into Kazakhstan at 50 watts was also achieved, it seems to work well.
Conclusion
Great antenna IP65 rating with good mounting clamp setup will report back when i test the full 80m half wave antenna supplied with the unit at field day.
John m0hfh