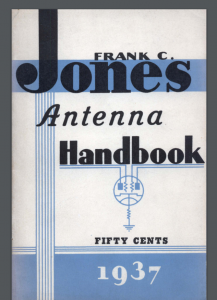 Has anything changed in the maths since 1937?
Well perhaps the way we calculate and the calculators and computers we use to get the answer. Our test equipment and radio's have also taken a great leap forward; I have smiths charts on my analyser these days where it used to be complicated and time consuming to get the resolution to complex number problems.
The link below takes you to Frank Jones antenna handbook
http://www.tubebooks.org/Books/Jonesant.pdf
Still valid today? – leave a reply 
I like to try some of the old designs and compare  the performance with some of the improved antenna designs we have today,( Roll on Field day 2021)  but mostly its the detail of the design description that leads to ideas for improvements. 
John (m0hfh)