The TSGARC has a permanent club shack housing the clubs radios and available for all members to use irrespective of their licence level. Please see a committee member or trainer for access details.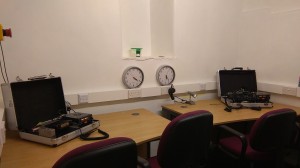 Access
Once you have access the keys are held within a key safe. Access should at present only be made when other people are at the Chantry, either in the main house or Coach Hall. At all times courtesy should be given to other users of the Chantry.
Signing In
Upon entering the shack all members are requested to complete the signing in sheet unless it is a club evening. This is an essential item to allow the club to understand whether the shack is worth the expense. Spare sheets can be found here.
Electrics
The shack is equipped with three separate supplies. All supplies are run of the same electrical phase.
Within the room the dado trunking at waist height is protected by [Richard] and is fitted with an emergency stop button. All radio equipment should be connected to these dado sockets.
The high level socket behind the door is for network equipment only. It is protected by an MCB.
The low level socket behind the door is protected by the buildings supply. It should not be used for anything except domestic equipment.
Tea and Coffee
Within the shack there are tea and coffee making facilities which shall be moved to the Buckingham room during club evenings.
Storage
The storage space within the shack is for frequently used or expensive equipment.