The kits and coursework for the Arduino beginners course are now complete and ready to run.
Each kit has the following items:
Item
Source
Qty.
NodeMCU Lua V3 CH340G ESP8266
eBay
h-quality_electronic
1
10pcs Micro USB cable
eBay
bigfashionmarket
1
NodeMcu Base ESP8266 Testing DIY Board For LoLin V3 NodeMcu Lua WIFI Develo G3E6
eBay
2013bestbuybest
1
10PCS Mini Universal Solderless Breadboard 400 Contacts Tie-points Available AM
eBay
alimodule
1
DuPont Hook up Cable wire Rainbow Ribbon of 40/10 Wires Male Male Female Female
eBay
mallinson-electrical
18
100 PCS 5mm Round Super Bright Red Light Output Diode LED Light BT
eBay
2013bestbuybest
5
Mini Speaker
eBay
2013bestbuybest
1
100x 6 x 6mm x 9.5mm PCB Momentary Tactile Tact Push Button Switch 4 Pin DI U2Q8
eBay
2013bestbuybest
5 (2 soldered to VB)
OLED Display 0.96in
Ali Express
1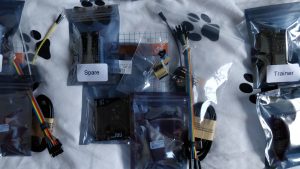 All bagged up ready to go: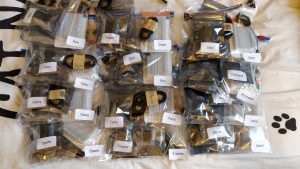 The plan is to run the course on the evening of 21st February with an 8pm start or earlier if everyone is ready.
Please note you will need to bring a laptop or PC with either Windows 8.1 or 10. if you have something older please bring it along ASAP and we'll check it out.
Paul
M0ZMB