Here is a link to the slides used last Wednesday.
Paul
M0ZMB
The kits and coursework for the Arduino beginners course are now complete and ready to run.
Each kit has the following items:
Item
Source
Qty.
NodeMCU Lua V3 CH340G ESP8266
eBay
h-quality_electronic
1
10pcs Micro USB cable
eBay
bigfashionmarket
1
NodeMcu Base ESP8266 Testing DIY Board For LoLin V3 NodeMcu Lua WIFI Develo G3E6
eBay
2013bestbuybest
1
10PCS Mini Universal Solderless Breadboard 400 Contacts Tie-points Available AM
eBay
alimodule
1
DuPont Hook up Cable wire Rainbow Ribbon of 40/10 Wires Male Male Female Female
eBay
mallinson-electrical
18
100 PCS 5mm Round Super Bright Red Light Output Diode LED Light BT
eBay
2013bestbuybest
5
Mini Speaker
eBay
2013bestbuybest
1
100x 6 x 6mm x 9.5mm PCB Momentary Tactile Tact Push Button Switch 4 Pin DI U2Q8
eBay
2013bestbuybest
5 (2 soldered to VB)
OLED Display 0.96in
Ali Express
1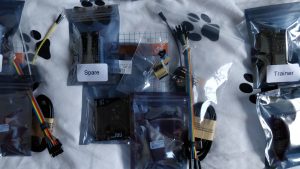 All bagged up ready to go: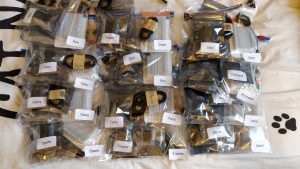 The plan is to run the course on the evening of 21st February with an 8pm start or earlier if everyone is ready.
Please note you will need to bring a laptop or PC with either Windows 8.1 or 10. if you have something older please bring it along ASAP and we'll check it out.
Paul
M0ZMB
It's beginning to look a lot like Christmas!
This week I have received a number of parcels from the great electronics store in the East. The contents of which is the majority of the parts required for the Arduino beginners course. I'm now only waiting for three items. The photo below shows the contents.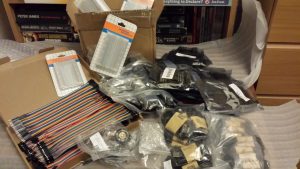 And a less cluttered photo showing:
Jumper wires to be split into kits
A breadboard
The all important NodeMCU (ESP8266 or ESP12-E)
NodeMCU base
USB cable (yes I know you have one already, but at 29p each!)
Two speakers (one in each kit)
And a bag of LEDs to be split up.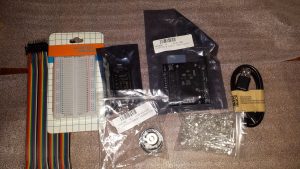 As most of the items have arrived so quickly, I may be able to bring the course date forward slightly.
Paul
M0ZMB